Dewalt DW276
Heavy Duty VSR Drywall
Framing Screwdriver
---
DW276 VSR Screwgun by DeWalt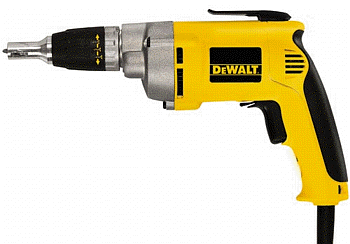 Powerful 2500 RPM motor for toughest jobs.
Great screw shooter

No longer available

The Dewalt DW276 variable speed, reversible screw shooter is an excellent choice to use with the DuraSpin Screw Systems. The DW276 was included with the original DS300-D2 and is fully compatible with both the DuraSpin DS200 and DS300 Feed Systems. The Dewalt DW276 is also compatible with many of the Quik Drive screw systems.

Features:
Gears made from heat-treated, helical cut steel for long life and durability. High torque for deck building and heavy gauge steel stud framing. Metal gear housing for increased durability. Depth sensitive, "set and forget" nosepiece for consistent fastener depth. Excellent ergonomics. Non-slip rubber comfort grip and two-finger trigger for increased comfort. Very flexible extra long 8' cord. Magnetic bit holder. #2 Phillips bit.

Specifications:
Amps 6.5
No Load Variable Speed 0 - 2,500 rpm
Maximum Fastener Size: #12
Torque 132 in-lbs
Tool Weight 3.6 lbs
One Year Warranty
Made in the U.S.A.
---
END OF PAGE