Senco DuraSpin
DS300 Feed System

---
DS300 Feed System by Senco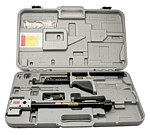 Sheathing - Underlayment - Decking
Drives 1-5/8" to 3" screws
Includes flooring extension and carry case

No longer available

For corded power and speed in various 1-5/8" – 3" wood screw applications, the SENCO DuraSpin™ DS300 Collated Screwdriver Attachment comes with adaptors to use your SENCO, DeWalt, Milwaukee and Makita electric screwdrivers. Adaptors must be ordered seperately for Bosch and Sioux. The DS300 comes complete with DuraSpin™ Feed System, mounting hardware, flooring extension, two square drive bits and a rugged carrying case.

• Easy Depth-of-Drive Adjustment – Just turn the thumb screw to regulate the precise amount of countersink.
• Quick Release – Feed system snaps off to give easy bit access.
• Adjustable Nose Piece – Easily adjusts for screw sizes from 1-5/8" – 3".
• Super-Tough Drive Bits – Outlast the competition.
• SENCO's Full One-Year Warranty applies.

DS300 feed system
Height: 7"
Length (without gun): 11.5" - 21-1/2" with extension
Width: 2-3/4"
Weight (without gun): 1.5 lbs. (3.5 lbs. with extension)
Drives 1-5/8" - 3" screws.

---
Screwguns and Adapters for DuraSpin Attachments
(2500 rpm best for wood screws - 4000 rpm best for drywall)



ELECTRIC CORDED TOOLS:
(Sorry - no cordless models)

DeWalt Adapter - MA0007*
DW251 (4000 rpm)
DW252 (4000 rpm)
DW257 (2500 rpm)
DW260K (2500 rpm)
DW265 (2500 rpm)
DW266 (2500 rpm)
DW272 (4000 rpm)
DW274 (4000 rpm)
DW274W (4000 rpm)
DW276 (2500 rpm)

Milwaukee Adapter - MA0009*
6755-1 (4000 rpm)
6757-1 (4000 rpm)
6758-6 (4000 rpm)

Bosch Adapter - MA0008
1404 VSR (4000 rpm)
1405 VSR (2500 rpm)
1420 VSR (4000 rpm)
1421 VSR (2500 rpm)

Makita Adapter - MA0011*
6823 (2500 rpm)
6824 (4500 rpm)
6825 (6000 rpm)

Porter Cable Adapter - MA0009*
6640 (4000 rpm)

SENCO Adapter - MA0012*
SG2500 (2500 rpm) Screw Gun included with the DS200-S2 and DS300-S2
SG4000 (4000 rpm) Screw Gun included with the DS200-S4 and DS300-S4

Ryobi Adapter - MA0012*
DSG50

PNEUMATIC TOOLS:

Sioux Adapter - MA0010
2P2603A (2000 rpm)
2P1603A (2600 rpm)
2P1303 (3350 rpm)

*Included with DuraSpin DS200 & DS300 Feed Systems.

NOTE: These model numbers are known to fit our adapters as of Jun 2004. There may well be others we are unaware of, and manufacturers can and do change their designs at will. We cannot, therefore, warrant that the feed system will always fit a listed model. SENCO DURASPIN June 2004 - RFS
Don't forget these related items
Add to
Cart
Description
Price
EA0127
SCREW BIT-SQUARE #2 (2 PACK) DS300, DS300-S2, DS300-S4, DS300-D2, DS300-D4
8.95
EA0128
SCREW BIT-PHILLIPS #2 (2 PACK) DS300, DS300-S2, DS300-S4, DS300-D2, DS300-D4
8.95
MA0008
ADAPTOR ASSEMBLY - BOSCH DS200
6.37
---
END OF PAGE